Located in:
Wayne Plaza Shopping Center
Phone: 937-233-4606
​Hours of Operation:
Fall (September ~ May)
Mon - Thurs: 5:00pm - 9:00pm
Saturday: By Appointment Only
Summer (June ~ August)
Mon - Wed: 6:00pm - 8:30pm
Age Guidelines
Age Guidelines:
Elementary: 9 - 12 years old
Junior: 13 - 15 years old
Team Ballet:
Ballet 1 Primary/Elementary
Ballet 2 Elementary/Junior
OPEN TO ALL DANCERS AGES 5+
~Age levels listed are a guideline only.
Students are placed at their skill level and
is determined by our teaching staff.
​​​​​​​
Monthly Fee Schedule
Monthly Fee Schedule:
30 Minute Class ......$38
45 Minute Class.......$42
60 Minute Class.......$46
*Private Solo Class...$68 (no further discount)
*Private Duet Class...$58 each (no further discount)
*Private Trio Class...$48 each (no further discount)
*for competition students ONLY.
Summer Sessions and Schedules may vary depending on dates.
Class Descriptions
Available Classes:
Acrobats

Ballet*

​​​​​​​Basic Dance
Baton*
Hip Hop*
Jazz*
Musical Theatre
Pointe
Tap
*Competition Teams available
---
Class Descriptions:
Acrobats (gymnastics, tumbling) - tricks on/across a mat with strengthening and increased stretching.
Ballet (Classical, Lyrical, Contemporary) - a form of dance demanding grace and precision while employing formalized steps and gestures set in intricate flowing patterns to create expression through movement.
Basic Dance - a fundamental foundation of dance for beginning dancers aged 3 & 4 years old.
Baton - twirling a baton rhythmically while dancing.
Hip Hop - urban dance movement.
Jazz - a form of dance with great energy and liveliness.
Musical Theatre - may be a variety of dance styles with a focus on inventive characters/roles from musical plays and/or movies.
Pointe - dancing on the extreme tips of the toes in blocked shoes for additional support. **Prior ballet experience required, along with teachers approval, to go on pointe**
Tap - a dance in which the rhythm is tapped out with the toe and heel by a dancer wearing shoes with special hard soles and metal taps.
Studio Policy & Information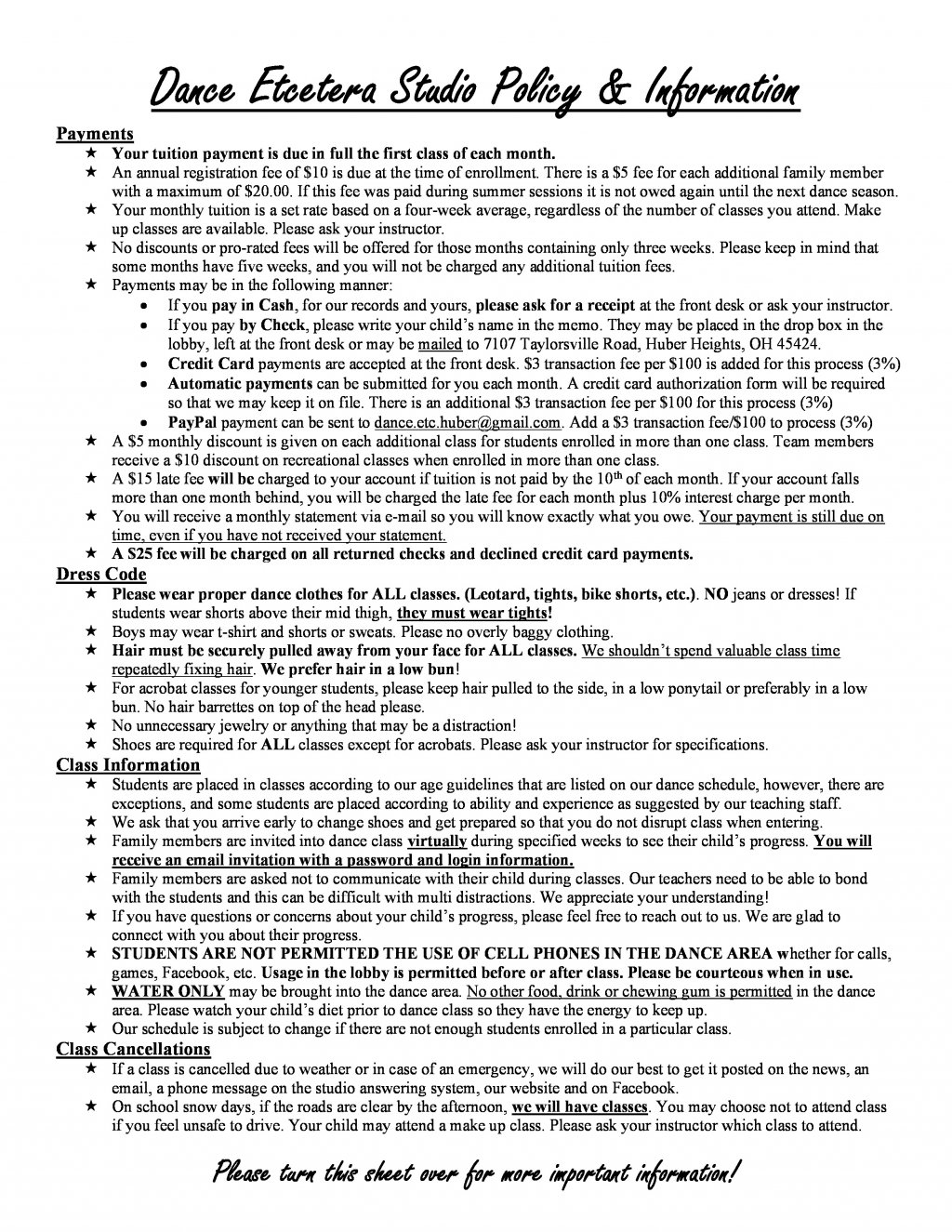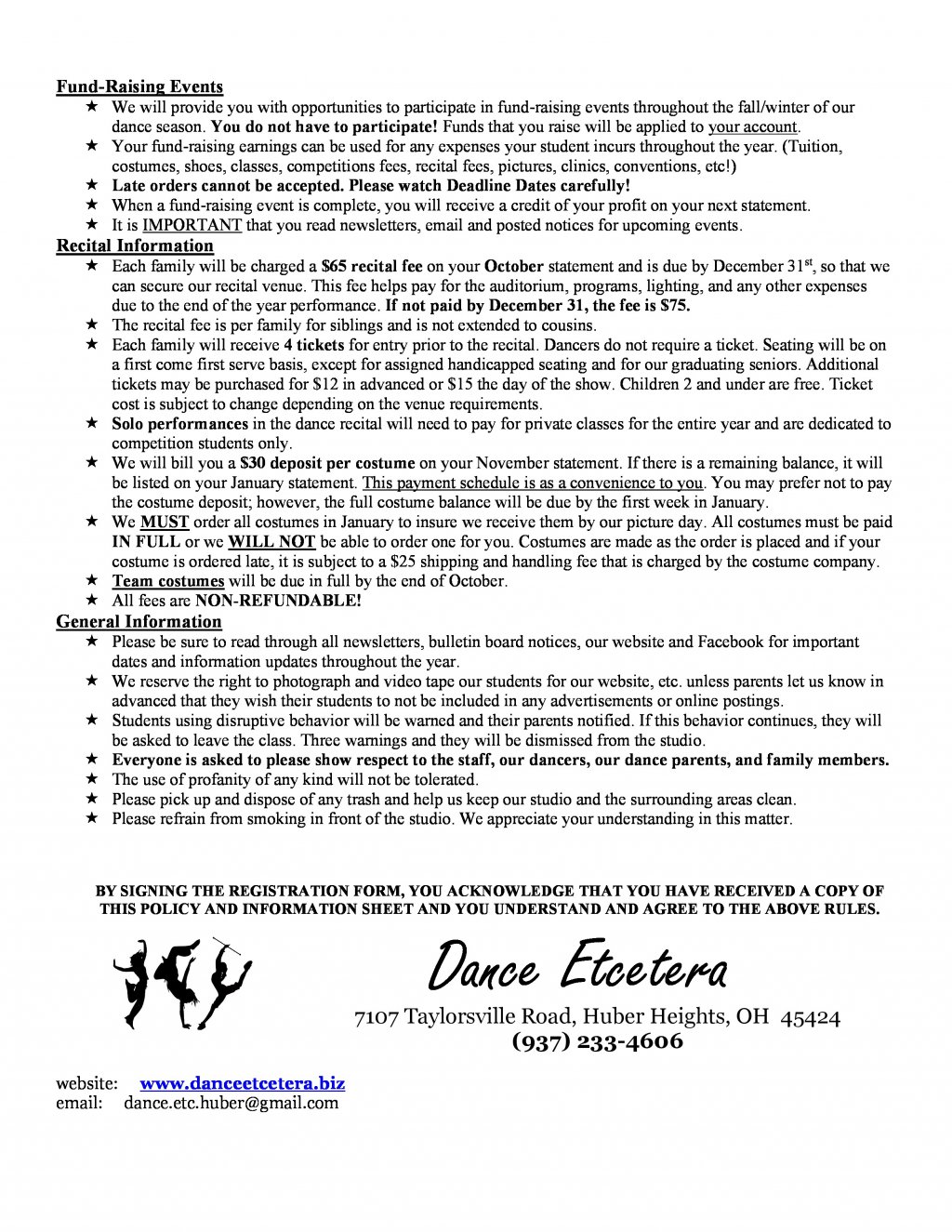 Covid-19 Class Guidelines
​​​​​​​
​​​​​
​​​​​​​
COVID-19 Class Guidelines:
-We will continue to follow any local or state mandates as necessary.
-We ask that everyone continue to enter through the South entry door (near the front desk) and exit through the North door to help with the flow of foot traffic through our lobby.
-Due to limited space, parents with small children are permitted to walk them into the lobby to help change shoes and prepare for class, but we ask that they wait outside during classes. Please know that our staff will make every effort to keep your dancer safe and happy, but if any issues should arise, we will contact you to pick them up at the front door.
-At the end of class, please make sure you are outside of the North door to pick up your child.
-Older students will be encouraged to use the lobby space for stretching and preparing for class.
-We have installed cameras in and around our dance studio so when we offer our "Family Watch" you can watch your child's progress through our website. A password will be provided via email and can be shared with other family members.